Our Focus is on Independence, Safety and Peace of Mind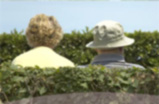 Independent Retirement living at The Leah Rose Residence means living in the elegance and warmth of your own private apartment furnished with your favorite possessions, while being surrounded by neighbors who are friends and peers. Each day brings new opportunities for you to be as active as you want, or simply to enjoy the comfort and serenity of your apartment. Private apartments feature solid architecture and are complete with full kitchens or kitchenettes, bathrooms and emergency call systems.
Many apartments have views of downtown Nashville and the vibrant downtown skyline.
The Leah Rose Residence is located between Belmont and Vanderbilt University close to theaters, restaurants, gift shops and stores. Come enjoy your independent retirement lifestyle with us and have the freedom you enjoy with all the comforts of a secure and friendly home.